Inviting People To Forecast
Managing people requires View-Edit permissions.
When you add a new person, you'll see a checkbox to invite this person to view or edit your Forecast account. Just be sure to check this box and select the right permissions.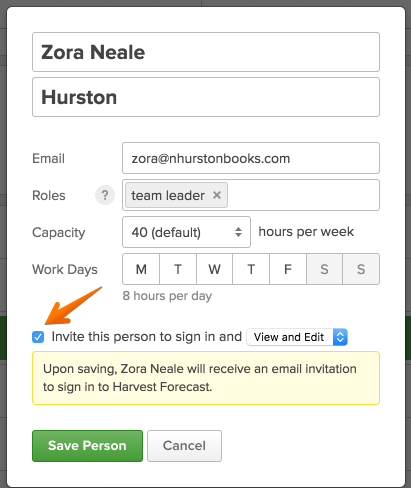 If you've already added a person, but didn't invite them, you can always invite them later. Just head to Manage > Team. Click on the person's name, check the box beside the option to invite them, select your permissions, and click Update!  
If you do that, we'll send that person an email to join Forecast. It'll include a link for them to access your account and they'll be set to go! 
Keep in mind, you can also invite a person to join Forecast directly from the Schedule view. Head to the Schedule, and click the Team button. Click on the person's name, select the Actions drop down menu, then Edit. From here, check the box to invite them to sign in, then Update. 
Note: If you've imported a user from Harvest, they won't automatically be invited to access your account. You will need to invite them separately.
Resending an Invitation
If you need to resend an invitation to a coworker to join your Forecast account, all you need to do is edit their profile and use the Resend Invitation link.