How do I add or remove people from my plan?
Billing requires View-Edit permissions.
Note: This page explains how to adjust your payment plan when adding or removing people. To see how to add people to your team, head here.
Adding People To Your Payment Plan
Once you're using all of the people in your paid Forecast account, adding more people is easy! When you go to add a person to your team, this box below willl automatically pop up. Simply enter the number of additional people you'd like, and we'll adjust your plan automatically.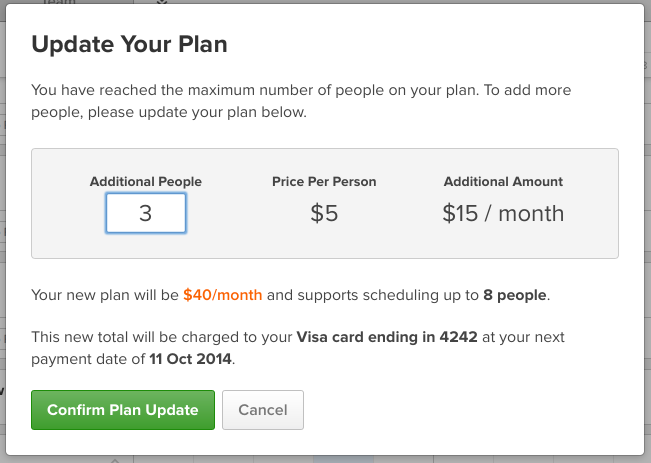 Removing People From Your Payment Plan
We do not automatically adjust your payment plan when you archive or delete people. If you archive or delete a person, you must also adjust the amount you pay. 
To downgrade your payment plan:
First, archive the people you no longer need. You can see how to do that here.
Then head to your Settings (upper right corner) and scroll to Billing Information.
In the Current Plan section, click either Update Plan (if you're paying Monthly) or Remove People (if you're paying Yearly).
For Monthly customers, enter the new total number of people you need, then confirm the plan update. For Yearly customers, enter the number of people you want to remove, then confirm.