How do I link people between Harvest and Forecast?
To get the benefits of our Harvest and Forecast integration, you'll want your team members linked between Harvest and Forecast. The only way to do that is to import your team from Harvest into Forecast.
In Forecast, after setting up the Harvest integration, you'll have the opportunity to Import and Link People from Harvest.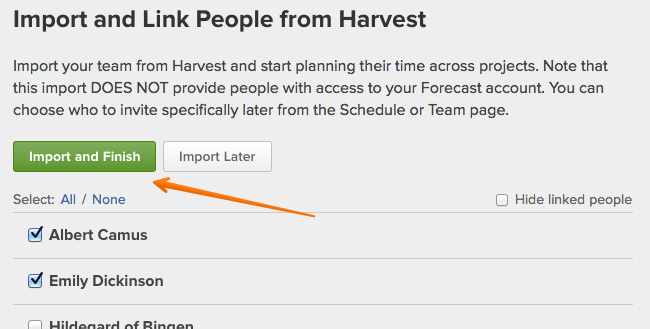 Note: If you decide to import later, you can always get back to this page by heading to Manage > Team and clicking the Import from Harvest button.
You should import everyone you plan to schedule. Note that importing people will not invite them to access the Forecast account—you'll need to invite them after importing.
If you've already added people in Forecast who aren't linked to Harvest, here's how to link them:
Add the person in Harvest.
Make sure their first name, last name, and email all match the person's profile in Forecast.
In Forecast, import that person from Harvest.
If the name and email match exactly, we'll link the person between the two accounts.